(Last Updated On: 18/10/2019)
Lviv, Ukraine is among my very favorite cities. Like very very beloved ones!
Whenever I can I travel to Lviv, over and over again.
Some might think it gets boring but I disagree – the more times I visit Lviv, the more amazing places, beautiful architecture and interiors, charming corners and cozy cafes I keep finding.
Lviv never gets boring!
Short history of Lviv, Ukraine
Lviv, now 7th biggest city in Ukraine, was founded around the year 1250 and got its name after the founder's (Daniel of Galicia – King of Ruthenia) son – Lew.
It literally means "lion" hence you will see the animal everywhere, including the coat of arms.
For centuries it's been mainly the Polish city, one of the most important cultural, educational and political centers in the region, especially during Austria-Hungary time (then it was the capital of Kingdom of Galicia and Lodomeria).
After World War 2 Lviv became part of the Soviet Union (and Polish citizens were deported to what is now western Poland, mostly to and around Wrocław) and after USSR collapsed – Ukraine.
While there is a lot of sentiment and nostalgia for Lviv among Polish people I've never really felt it too.
I know it used to be "our" city, one we were really proud of, but I also know how crazy geopolitical issues can be and right now Lviv is Ukraine, period.
But when I visit Lviv I do wonder from time to time how would Lviv be if it were still Polish.
Part of its charm is how edgy and crumbling it looks – would it be the same?
Reasons to travel to Lviv
There are so many reasons to travel to Lviv!
The city is insanely beautiful, so much that you need to pinch yourself it's real!
I always feel like in a fairy tale there, like the time around me has stopped (and old school trams rolling slowly through the narrow streets only consolidate this feeling).
For me, this is the most charming and romantic city in Europe, the one where you can spend days or return on many occasions and never get bored.
The city is like a drug, once you visit Lviv you get addicted (kind of similar story happened to me with another Ukrainian city – Kiev).
Lviv also has one of the best cafe scenes in the world. And it's not only my opinion, but it's also a fact!
There are around 1500 cafes in the city making it the highest amount of cafes per capita in the world!
You can spend a year in Lviv, visiting cafes only and you still wouldn't go to them all!
Some of them are really old, cozy and charming and with a great interior that you will want to visit them anyway!
What's more due to the low prices in Ukraine coffee (or just about everything) is very affordable and the travel to Lviv won't drain your wallet.
The city is also among the most picturesque ones I've ever seen!
No matter where you go in Lviv Old Town you will be greeted with picture perfect spots: architecture, streets, city views or interiors.
Be sure to charge the batteries and empty memory cards before you visit Lviv – you will need them all!
Even though at first Lviv seems to be small and possible to cover in one day only the more you start digging, the better it gets.
Right now my list of places to see during my future trips to Lviv is just neverending: all the art nouveau buildings, all the breathtaking interiors, remnants of Polish past and, on top of that, all the amazing cafes and restaurants.
I already know I will travel to Lviv so many times in the future!
Lviv for photography enthusiast
If like me, you're a huge photography enthusiast I recommend you wake up early and set off with your camera for a walk around when the streets are still fairly empty.
And then return there at the golden hour in the evening – climb the town hall tower (prepare for climbing over 300 steps!) or walk up to the High Castle Hill – the highest point in the city for the best views.
During the day explore some of the most amazing interiors or walk to Lychakiv Cemetery – one of the most beautiful necropoleis you will ever see and a true testimony of the Polish and Ukrainian history.
Here are some of the best photography spots in Lviv (you will find the map with them at the end of the post, I limited it to the Old Town mostly as again, the list would be too long):
Rynok Square – the main square. Colorful houses around and crumbling trams passing by making a beautiful scene. Climb to the town hall tower and enter the gate at Rynok Square 6 to see the so-called Italian yard.
streets in the Old Town. My favorites are Virmenska, Lesi Ukrainky, Brativ Rohatyntsiv, and Staroievreiska. But every single street there is worth at least a few pictures so just wander aimlessly around!
Passages. There used to be many amazing passages in Lviv but only a few remained there. The best ones are Andreolli's connecting Rynok Square with Teatralna street or former Hausman's (known also as Kryva Lypa) between Petra Doroshenka and Sichovykh Striltsiv streets.
Small lane between Virmenska and Lesi Ukrainky street, behind the Armenian church, dedicated to the great Armenian film director – Sergei Parajanov (btw, be sure to go to his museum if you visit Yerevan too, it's so cool!)
Potocki Palace – a great mansion in the heart of the city, located at Kopernika street.
Opera House, Svobody Avenue and Halytska Square
Lychakiv Cemetery – one of the most beautiful cemeteries I've ever seen. Beautiful, ornate graves are hidden between trees. It's the final place of rest for some of the most prominent people of Polish and Ukrainian history.
High Castle Hill – the walk up is a bit tiring but the views from this highest point in Lviv are really spectacular!
Yard of Lost Toys – this is one of the quirkiest places you can find in Lviv. On the way to High Castle, you can find kind of a spooky yard full of toys that clearly has been forgotten for years! It's kind of like Charnobyl creepy dolls but in the brighter scenery!
For the most beautiful interiors you should visit following places:
Opera – rich in shining ornaments, the interior of Opera will take your breath away.

It's possible to visit the building during the day, the ticket is 40UAH and you're free to take the pictures inside. Chances you will be the only person there are very high!

Just use the main entrance to the Opera, the ticket office is already there.

If you fancy seeing the show at the opera you're in a good place as tickets are very cheap!

House of Scientists – this is probably the biggest hidden gem in Lviv!

The former noble casino is known especially for its stunning wooden stairs, straight from the fairy tale (it's not hard to imagine a princess walking down).

The entrance is 30UAH, paid to a man hanging around and taking care of the place.

It's very possible you will stumble across a newly married couple doing their wedding photo shoot here.

Museum of Ethnography and Arts and Crafts – even if you're not interested in the subject this place is a must.

Built at the end of the 19th century it used to be Galician Savings Bank. The building is beautiful from the outside but what you find inside is yet another gem.

The staircase is hands down the most beautiful one I've ever seen.

The museum is opened from 11 am to 5 pm, the entry fee is 30UAH and another 10 more UAH for taking pictures inside.

Armenian Cathedral – it's easy to miss the entrance at Krakivska street but when you enter the unobtrusive door you will be greeted with a beautiful interior.

Try to be there in the morning, when the light comes in through the window – during one of my visits I was there around 11 am and could witness a beautiful play of light.

Boim Chapel – again, unobtrusive from the outside, stunning inside.

It dates back from the beginning of the 17th century.

The chapel is located at Katedralna Square but the entrance is from the small square on the back of Halytska street.

Just about every church in Lviv – the interiors of them all are like a baroque fest, so rich in the ornaments you don't know what to focus on.

The best ones are Bernadine Church, Dominican Church, Saint George's Cathedral and Saints Peter and Paul Garrison Church.

Hotel George – the oldest hotel in Lviv, built in 1901.

There are so many amazing stories about the place as back in the time some of the most important people in the world have stayed there. Now it's a very affordable accommodation in the center of Lviv, the one I most often choose when I visit the city.

The interior remembers grand times and even if you're not staying there you can pop in to take some pictures of the foyer.

But if you decide to sleep at Hotel George click here for more details and book the room! Your breakfast will be served with live piano music in the background!

Cafe Atlas, located at Rynok Square 45.

Before World War 2 it used to be the favorite cafe of Polish artists, a couple of years ago it reopened to be one of the favorite cafes/restaurants for tourists.

It's worth to stop it not only for the food but also for the lovely interior.

Coffee Mining Manufacture, also located at Rynok Square, on the corner of Ruska street.

It's popular for the coffee show and shop but hidden in the yard is one of the nicest cafe interiors in Lviv!

Apteka Mikolascha – around the corner from Hotel George.

A former famous pharmacy from the beginning of 19th century, recently reopened as a cafe with the interior reminding of its original function.

Fixage Cafe – a place for old photography lovers, with numerous old camera (and paintings of the Emperor Franz Joseph) displayed on the wall/
Lviv train station – built at the beginning of the 20th century it's one of the most beautiful train stations in this part of Europe.

The covered platforms area with old food stands looks good on the pictures too. Don't miss the stunning art nouveau main doors!
Best viewpoints of Lviv:
Town hall tower
High Castle hill
House of Legends – located at Staroievreiska 48, yet another cool restaurant.

But the main reason to visit it is the great terrace on top, with a car standing there and amazing views of the old town around!

Cafe on the top floor of Hotel Dnister – it's accessible for everyone, not only hotel guest.

From there you can see Lviv from another perspective, with Ivan Franko Park and University right in front of you.

Pro tip: take the camera with you to the toilet as the best view of UNESCO listed St. George's Cathedral is from there, and only from there.

There are few restaurants I haven't visited yet (as either they were full or closed or I didn't have enough time) that are supposed to offer great views: Rooftop Restaurant Partyfon, Valentino Restaurant, Terrazza or restaurant at Panorama Lviv Hotel.
You can join a rooftop tour to access some rooftops for great views. I did it once and I was happy with it. It's definitely a great way to look at the city from a different perspective! Click here to see the tour's details and prices!
Pictures to inspire you to travel to Lviv
Now, that I've shared with you the reasons to visit Lviv and my favorite photo locations in the city it's time for the pictures, many of them, in no particular order!
After all these visits I have a huge collection of Lviv pictures and it was so difficult to limit myself to only 50.
But I hope you will enjoy them and that they will inspire you to travel to Lviv soon! The city is amazing and I bet you will fall in love with it too!!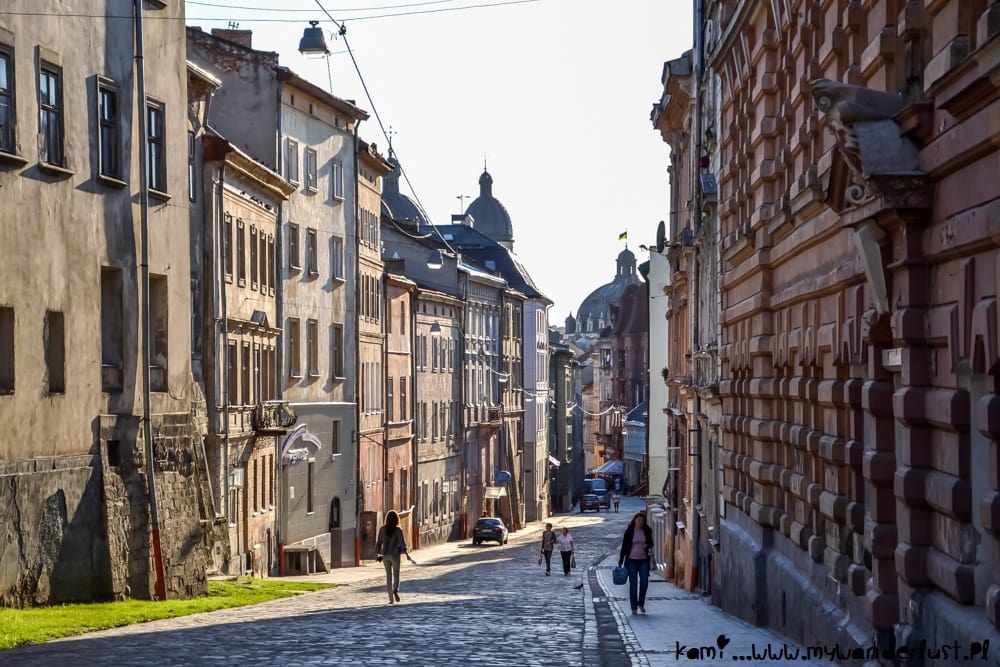 Lesi Ukrainky street
Lviv from the High Castle Hill
Rynok Square
Virmenska street in the winter time
snow covered rooftops of Lviv
Lychakiv Cemetery
Brativ Rohatyntsiv street
View from the Town Hall Tower
Lviv Opera
Beautiful art nouveau architecture in Lviv
View from the Town Hall Tower
Saint George's Cathedral
View from the roof of House of Legends
Lesi Ukrainky street
Ruska street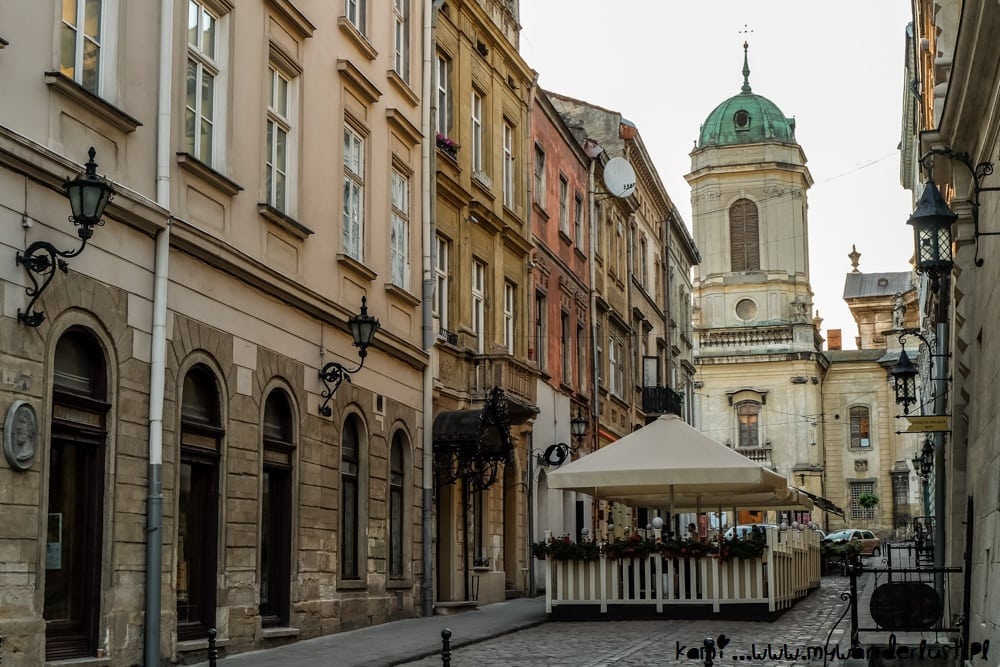 Stavropihiiska Street and Dominican Church
Rynok Square
Virmenska street
Kopernika street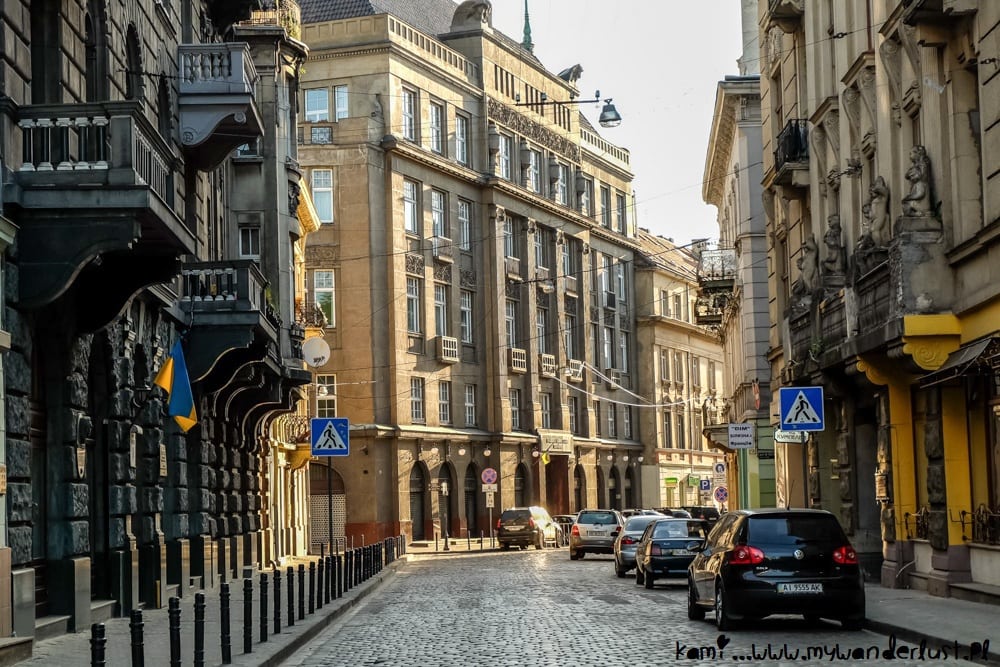 Kopernika street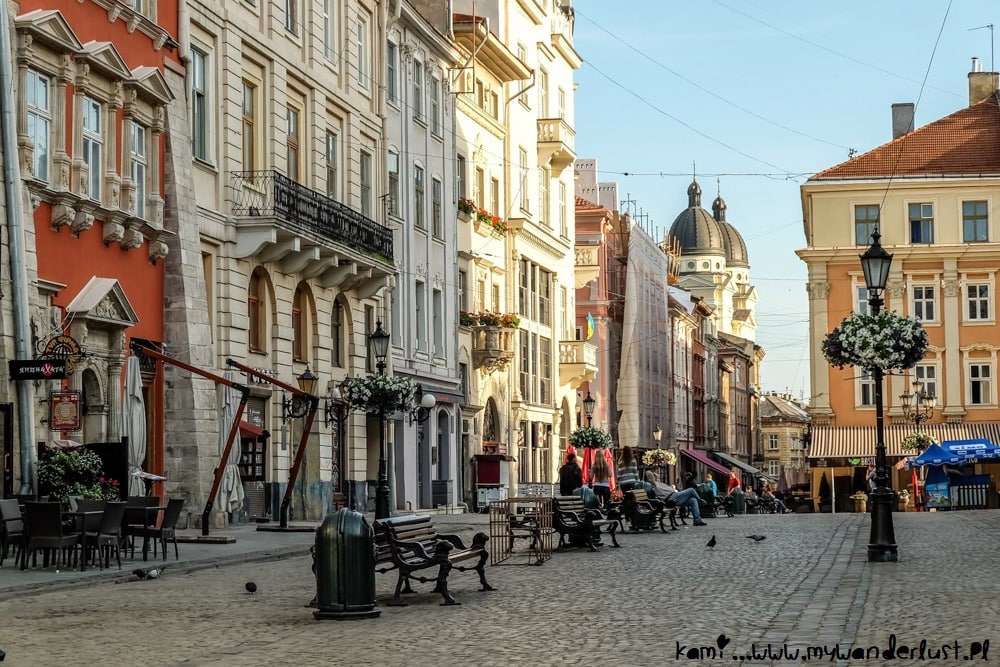 Rynok Square
Andreolli's passage
Yard of Lost Toys
Staroievreiska street
Atlas cafe
Andreolli's passage
Virmenska street
Yard of Mons Pius restaurant
Cafe just off Virmenska street
Lesi Ukrainky street
Yard behins the Armenian church
Flea Market next to Dominican Church
Inside House of Scientists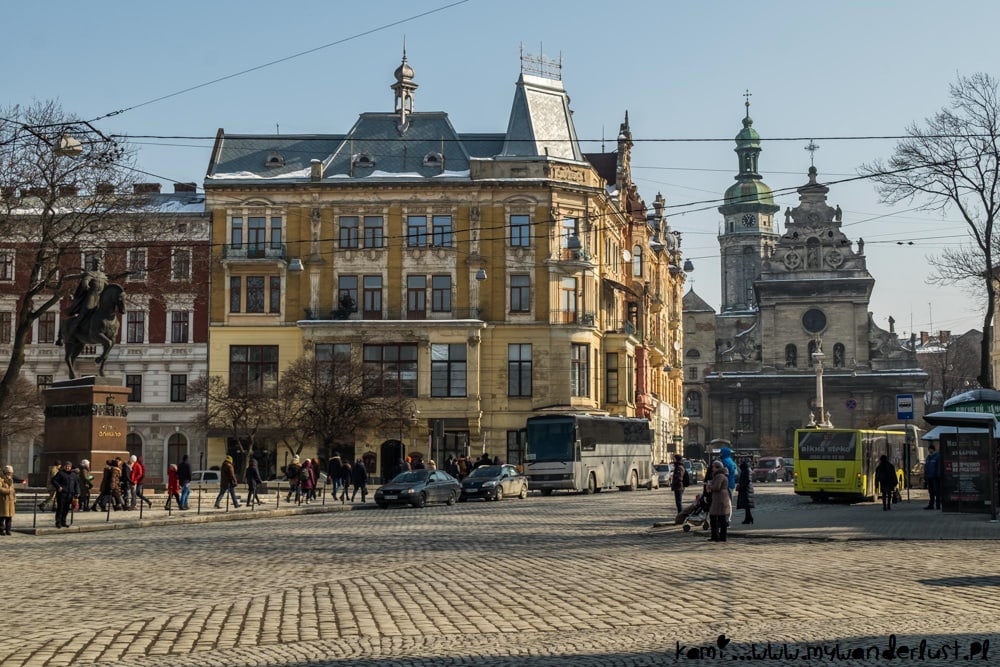 Halytska Square
View from the roof of House of Legends
Fixage Cafe
Inside the Opera
Inside the Opera
Inside the Armenian Church
Boim Chapel
Italian yard
Lviv rooftops
Lviv rooftops
Interior of Museum of Ethnography and Arts and Crafts
Hotel George
Coffee Mining Manufacture
Lviv at night
---
Map with the best Lviv photo locations
And here is the map with all the mentioned photo locations.
You can download it and use it offline during your trip to Lviv! Just get the .kml file, put it on your phone and open using maps.me!
---
Travel resources
With over 15 years of independent traveling, I've learned which websites and services are the best when planning a trip. I always use and trust the following websites:
Money – My number one tip for everyone is to start using Revolut bank card to save money when traveling.
You get the card by mail within a few days and you can use it all over the world. You top up the card in the app on the phone, where you can also have accounts in different currencies and exchange money between them, for no extra fee and at very favorable rates. Everything is super easy and fast, you only need an internet connection to manage your accounts in the app.
Revolut supports over 140 currencies and offers free withdrawal from ATMs all over the world. In the first 6 months I've used Revolut card in 12 countries (including Ukraine) in 3 continents and had no issues at all. And I saved a lot of money in the exchange rates!
Click here to learn more about the service and order your own Revolut card!
Accommodation – I always book my accommodation through Booking.com.
They have really good deals (especially with their "Genius" program that you become a member of after few reservations) and in most of the cases, if your plans change, you can cancel the reservation without any extra costs.
I also value them for a really good customer service that I had to use a few times.
Check the best deals on accommodation in Lviv here!
Insurance – I never travel without the insurance as you never know what might happen on the road and better safe than sorry (I've learnt my lesson).
I can recommend World Nomads that offer the insurance dedicated to travelers just like you and me.
Click here to get the insurance policy for Ukraine here.
Day tours – I do go for a day trips when I travel as often they are the most convenient way to see the place that saves you time and money. I most often use Get Your Guide that offers a variety of tours all over the world. Click here to check all the best tours you can take during your trip to Lviv!
Offline maps – For years I've been using MAPS.ME app and I can't recommend it enough! It's free, works offline perfectly fine and saved me many times. You can easily transfer Google Maps with all the bookmarks to maps.me and use them offline wherever you are. Click here to download it to your phone before your next trip!
---
For the end I left a few announcements that might interest you:
Would you like to travel to Central/Eastern Europe or the Balkans? Let me help you with travel planning! Click here for more details!
If you don't want to miss new posts and news from me click here to sign to my newsletter! You can also follow me on Bloglovin!
Join my Facebook group about Eastern Europe, the Balkans and former USSR and connect with fellow travellers and enthusiasts of these regions – just click here!
I've included a few handy links of services and products I personally like and use so you can plan your own trip to Lviv too. They are often affiliate links. This means I will get a small commission if you book/purchase anything through my links, at no extra costs for you. If you like what you are reading and seeing here and would like to support me and my blog please consider using those links. It would be like getting me a virtual drink that you don't have to pay for! Thanks!
---
LIKED IT? PIN THIS POST FOR LATER!
---
If you enjoyed that post why don't you share it with your friends? That would mean so much to me! Also be sure to join 27.000+ fellow travelers and follow me on Facebook, Twitter, G+ or Instagram for travel updates and even more pictures! If you don't want to miss new posts sign up to my newsletter or follow on Bloglovin!